Our Story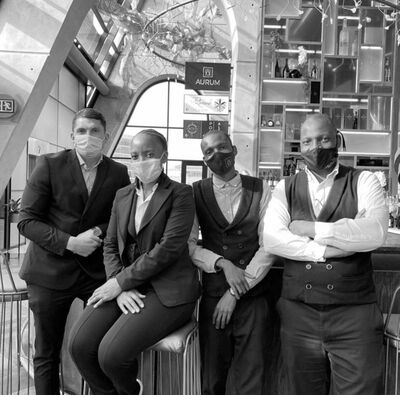 AURUM is a modern, independent high-end restaurant located in one of Africa's most prestigious buildings - The Leonardo. We purport to serve our interpretation of modern cuisine, matched by a local-focused and personally curated wine list.
With the belief that every ingredient has a place and purpose, and that remarkable cuisine comes from the purest ingredients, our team goes beyond creating ordinary dishes. Telling a story from seed to plate and trusting nature to produce elements in the commitment to showcase brilliant cuisine.
Through this passion for sourcing the very best produce in the curation of the purest flavours, we acquire our daily basket of exotic herbs, aromatics, vegetables and unique hybrids from local farmers. Respecting each unique ingredient, AURUM curates seasonal plates in an ode to sustainability.
At AURUM, we trade and source honestly, work ethically while respecting equally and serving with integrity. Going beyond the conventional sense of sustainability, AURUM values modern-day sustainable relationships with everyone that we encounter. With a near zero footprint, AURUM has sourced biodegradable packaging, menus and 100% recyclable products.